"I BELIEVE THE CHILDREN ARE OUR FUTURE !!
TEACH THEM WELL......LET THEM LEAD THE WAY" " Whitney Houston"
The Time Machine Band has been asked to do a free concert to help raise money for the Arts Dept at our Pompton Lakes High School Most of you know the High School is right next door to our studio and offices.on Lakeside Ave in Pompton Lakes. My name is Joe Corey....I am the owner of The Time Machine Band .....Over the years we have done many great things to help people...THIS TO ME IS ONE OF THE MOST IMPORTANT REASONS TO HELP OUR KIDS
It's about exposing music and arts to our kids.....it's not all about academics or sports......
MUSIC IS THE LANGUAGE OF OUR HEARTS.....
A song NO WORDS
BUT IF i PLAYED A SONG FOR YOU I CAN BRING BACK MEMORIES OF PEOPLE
YOU LOVE AND HAVE SHARED MEMORIES WITH....
NO WORDS NEEDED
IT MUSIC....IT'S THE ARTS.....we need your help.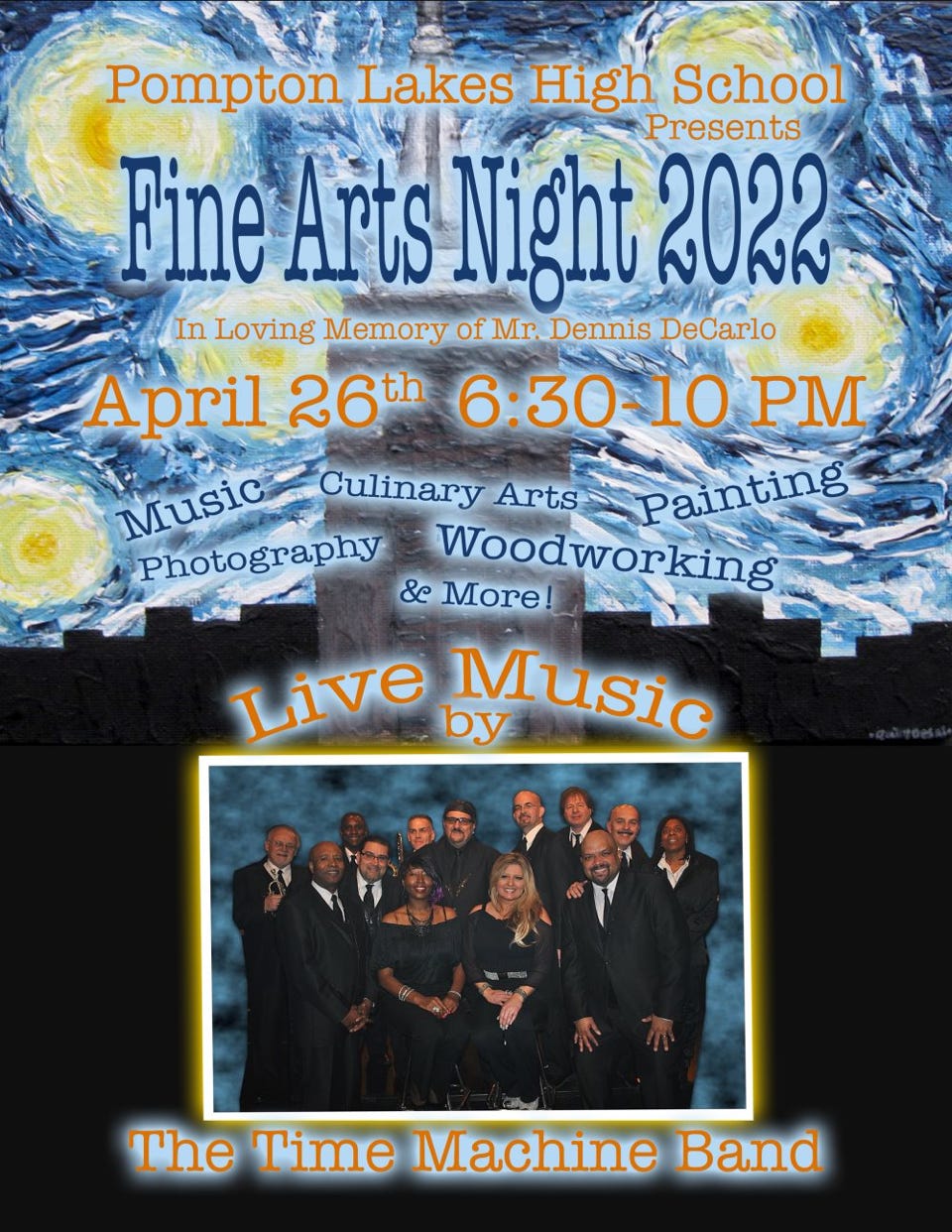 SO NOW WE CALL ON OUR FANS FRIENDS AND LOVERS
OF THE ARTS
THE TIME MACHINE BAND AND JOE COREY will be the doing the featured show at 9 PM - 10 PM in the Auditorium-----WE NEED YOUR SUPPORT WE WILL BE THERE NOT ONLY TO ENTERTAIN BUT TO RAISE NEEDED MONEY FOR OUR HIGH SCHOOL AND KIDS.....MUSIC is an important part of our lives help us create the environment to get our kids involved in the arts ---COME AND BRING YOUR CHECK BOOK.... DURING THE SHOW I WILL SHOUT OUT YOUR COMPANY AND DONATION.....SO THE KIDS KNOW YOU ARE HERE FOR THEM ALSO
TUESDAY 4/26 9 PM If you are business call Joe and schedule your presentation during the concert so we can shout out your business to all to hear WE NEED YOUR SUPPORT ON THIS TIME MACHINE BAND IS DOING THIS LABOR OF LOVE 100% FOR THE KIDS.....CALL JOE NOW 973-839-2519 LINE 1 AND LET US KNOW WE WILL SEE YOU THERE AND HAVE YOUR SUPPORT Your generosity has no set amount we appreciate you helping us to raise a lot money during that hour show.....SEE YOU ALL 4/26 TUESDAY 9 PM - 10 PM
WE HAVE MADE A LOT OF PEOPLE HAPPY OVER 4 DECADES OF PERFORMANCE WE KNOW WE CAN COUNT ON OUR LOYAL FANS AND FRIENDS There are so many reasons I have always given back to help
NOW MORE THAN EVER.....HELP ME DO THE BEST CONCERT AND RAISE THE MOST MONEY I HAVE EVER DONE IN ALL MY CAREER....IT'S THAT IMPORTANT.....
MY FRIENDS MY FAMILY MY FANS
THANK YOU
AND REMEMBER NO MUSIC NO LIFE !!
THE TIME MACHINE BAND
© Time Machine Entertainment